Product Overview
10-inch Eco Ultimate Gel & Memory Foam Mattress
Deluxe 10-inch Gel infused Memory Foam Mattress
3 Supportive Layers:
2-inch layer of premium 3lb Memory Foam
1-inch layer of Cool and Comfortable Gel Memory Foam
7-inch Layer of High Density, High Performance Base Support Foam
10-inch Eco Ultimate Gel Memory Foam Mattress Features:
Gel Memory Foam is the newest and most innovative material for a mattress. Gel Memory Foam combines the supportive strength of gel material with the conforming comfort of memory foam to achieve a perfect balance of support and pressure relief. In addition the gel material helps to regulate body heat even more efficiently and keep your mattress feeling just the right temperature.
In conjunction with the Gel layer, the open cell memory foam is extremely breathable and both layers work to regulate your body temperature as you sleep and prevent the mattress from acting like a heat trap. You will sleep cooler and more comfortable with a Gel Memory Foam Mattress.
The high density support foam provides the core strength and firmness that a mattress needs to hold its shape and support your body correctly. The memory foam layers are conforming and pliant; they need a firmer core material underneath to provide support throughout and give the mattress the internal body it needs to hold up and last for years.
Luxurious Machine washable stretch-knit cover is super-soft and zippered for easy removal and laundering.
Memory Foam infused with Gel provides optimal pressure relief along with extra cooling properties of gel to reduce tossing and turning and promote a deeper more restful and comfortable sleep.
Open cell structure ensures more airflow for greater cooling and comfort than traditional memory foams. Memory foam is naturally hypoallergenic and much more resistant to bed bugs and dust mites.
Manufactured in the USA with North American foam of the highest quality and using the latest cutting edge technology.
Available Sizes:
Twin 38 x 75 inch
Twin XL 38 x 80 inch
Full 54 x 75 inch
Queen 60 x 80 inch
King 76 x 80 inch
California King 72 x 84 inch
Eco Ultimate Features:
Limited twenty year warranty
Made and manufactured in The US and Canada— Crafted with pride in USA
Available Platform / Riser Base:
Get a riser platform and replace both your bed frame and box spring. A platform riser is a great way to support your mattress and create tons of extra storage space under your bed. Click here to see the full product page.
Elevate your bed 14 inches high and create tons of useable storage space!
You won't believe how much space you can recover when you get rid of an antiquated box spring. The platform riser is available with an elegant microfiber cover that makes it look like a traditional box spring.
Platform Riser options:
Cover: Attractive flame resistant microfiber cover. Makes the platform riser look like a traditional frame and box-spring.
SimpleFit Mattress Foundation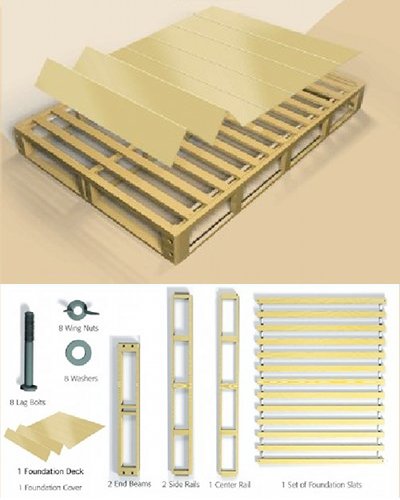 The SimpleFit foundation is a remarkable way to complete your sleep system. This foundation/box kit include instructions and all component parts. It comes complete with a beautiful off-white fabric that is compatible with most mattresses. Add a quality mattress and you are ready for a great night's sleep. Used with your steel bed frame, this mattress box is deigned to properly support all latex and memory foam mattresses.
SimpleFit Foundation Features:
Fits all standard mattress sizes
Assembles in minutes & looks like a regular box spring
Removable cover allows for easy cleaning
Sturdy wood frame mattress support, can be used with all memory foam and latex mattresses without voiding the warranty
Passes all federal 1633 FR regulations
One-sided, no rotation necessary
Off-white cover compliments nearly and decor
Warranty Information
20-Year Limited Warranty starts on the date of purchase. The manufacturer of this mattress guarantees that your latex or memory foam mattress will be repaired or replaced at our option, without cost to you, should it be deemed defective because of faulty workmanship or structural defects during the first three (3) years of the Limited Warranty, excluding specific limitations contained herein. If defects described above occur after the first three (3) year period, during the remaining seventeen (17) year period of the Limited Warranty, we will, at our discretion, repair or replace the mattress with shipping costs being the purchaserÌÎ_Ì´åÇs responsibility. Beginning at year four (4) of ownership, the prorated replacement value will be sixty-seven (67%) of the original purchase price, and will decrease three (3%) for each subsequent year of the prorated seventeen (17) year period. All memory foam and latex mattresses are designed to work with a firm foundation or box spring and must not be used on a slatted base where gaps between slats are more than three (3) inches apart. This Limited Warranty is considered null and void if the mattress or covering has been physically abused, damaged, burned, cut, torn, or stained, mildew or mold damaged, or has any evidence of liquid spillage on the contents or covering, found upon inspection. This Limited Warranty is valid only to the original purchaser of the product, and is non-transferable. All transportation costs are the responsibility of the purchaser, and the cost to return the mattress to the manufacturer is the sole liability of the purchaser. The Limited Warranty does not cover the following: 1. Comfort preference. 2. Transportation charges for return and shipping, if necessary. 3. Failure to use an appropriate mattress protector or use of an inappropriate foundation, bedframe, or box spring (Note: Bedframe must contain a minimum of 5 legs). 4. Use on an inappropriate support surface. 5. Abuse or unsanitary conditions of any kind.
Reviews